In Memoriam - A Tribute Notable Veterans Who Have Recently Passed
Bob Ball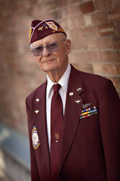 Bob Ball, B-17 veteran and ex Prisoner Of War has passed away. Our sympathies to his wife Peg and his family. He was an active participant in Stories From Wartime and a leader of the Mile HighChapter of American Ex-Prisoners of War.
Phil Antonelli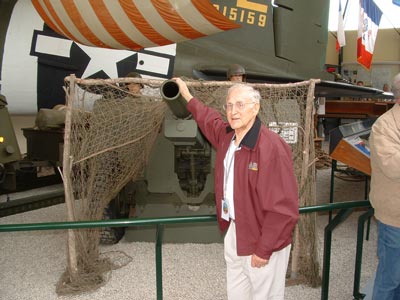 Phil Antonelli has passed away at the age of 89. Read his Obituary. See pictures of his return to Normandy.
See excerpts of our interview with Phil.
Phil on dealing with fear in Combat.
Phil recounts his return to France in 2004.
Hal Weekley - B-17 Pilot
The last of the B-17 drivers, Harold "Hal" Weekley passed away September 22, 2010 in Austell, GA. Weekley flew missions over France and Germany during World War II. On one of those missions in 1944, he was shot down and spent 6 weeks evading capture in France before Allied forces liberated the area in which he was hiding.
After the war, he flew the EAA's restored B-17 "Aluminum Overcast" for 23 years at events and airshows, making his final flight in 2001 shortly after his 80th birthday. He was the last World War II veteran to fly the B-17. He also wrote a book about his experiences "The Last of the Combat B-17 Drivers"
We were fortunate to interview Hal Weekley during one of his visits to Denver with the "Aluminum Overcast" and he described just how hazardous it was to fly the B-17 during the war.
Obituary from the Experimental Aircraft Association
Doolittle Raider Bill Bower Passes Away
The last surviving pilot of the Doolittle Raid, Boulder's Bill Bower has passed away at the age of 93. Bill has spoken at the Regis Stories From Wartime program keeping alive the true story of the Raiders. Click to see an exerpt of an interview with Bower and Colonel Jimmy Doolittle's Co-pilot Dick Cole and Bill Bower.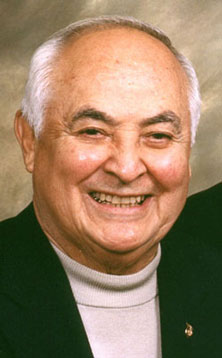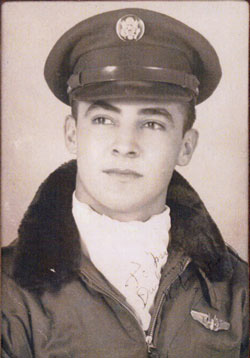 Dr. Gil Maestas (1925-2009)
Sadly, we are feeling the impact of the loss of the World War II generation again. Dr. Gil Maestas passed away January 21, 2009.
Gil served as a flight engineer on B-24 bombers in the Southern European theater and loved to tell of how the Tuskegee Airmen saved his crippled airplane while returning from a mission to Southern Germany.
When he spoke of his war experiences to students, he always paid tribute to his brother Pete who was killed while fighting with Patton's Army in North Africa. He recognized the importance of the survivors of war to ensure the fallen are remembered.
After the war, Gil graduated from Regis University and became a prominent physician in Denver. Among his many experiences as a doctor, he fondly recalled befriending a visiting German doctor and discovering that man had served on an anti-aircraft battery which shot at his plane during a bombing raid on Augsburg. His story is a testament on how the enemies of wartime can become friends in peace.
Our sympathies go out to his wife Pat his children, and grandchildren. Gil Maestas was an eloquent and unique voice for his generation.
Martin Small (1916-2008)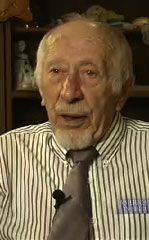 It is with great sadness that we report the passing of Martin Small on November 29, 2008. Martin was an accomplished artist and speaker who brought attention to the horrors of the Holocaust. The sole survivor of over 80 family members in his small Polish village, Martin survived torture in the Mauthausen concentration camp, fought in Israel's war for independence, and later migrated to America where he enjoyed a successful business career in New York City before moving to Broomfield, Colorado in the final years of his life.
Martin's eloquence and the beauty of his artwork ensure that his story, and the stories of his family will survive for future generations to
We express our condolences to his wife Doris, daughter Miriam and his numerous grandchildren and great-grandchildren.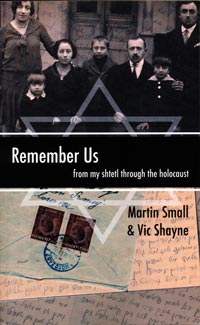 Martin Small and author Vic Shayne teamed up to write the complete story of Martin's life.
"Remember Us" is a first-person account of Jewish life in Eastern Europe before World War II, a testimony to the brutality of the Holocaust, and ultimately, a tribute to those who could never share their stories with the world. "Remember Us" has received acclaim from Nobel Peace Prize winner Elie Wiesel, actor and activist Ed Asner and Regis University Holocaust Studies Professor Victoria McCabe.
Click here or more information about the life and art of Martin Small.
He also has a tribute site with additional stories and poetry.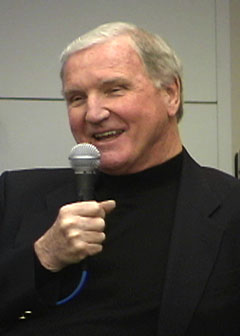 Robert Goldie Passes Away

It is with great sadness that we learned that Robert Goldie, a frequent presenter in the Stories From Wartime series passed away on Memorial Day. His stories about growing up during the Battle of Britain and the relationships he forged with British and American pilots were always laced with his consummate British wit. He was among the most popular presenters year after year. His passing reminds us of the critical need to get as many stories told, whether in person, on video, audio or through the printed word. Our archive holds many videos documenting his experiences and we are fortunate to have them. We extend our deepest sympathies to his family. We will miss him.
Click here for an mp3 audio file of Robert Goldie's final appearance at Stories From Wartime (Runs 26:11)
A video excerpt of his presentation is also available on the Video Page