70th Anniversary of Pearl Harbor
In honor of the victims of the attack on Pearl Harbor, we have two video excerpts from Pearl Harbor survivors. Julius Jordahl was aboard the battleship USS Tennessee anchored on Battleship Row which sustained damage and casualties during the attack, but fortunately, less than the nearby USS Arizona and USS West Virginia. Julius Jordahl passed away several years ago. but his complete interview is archived at the Broomfield Veterans Memorial Museum.
Stanley Knoop was aboard the repair ship USS Vestal which was moored aside the USS Arizona during the attack and sustained major damage when the Arizona blew up beside it. The Vestal managed to get underway during the attack due to the heroic efforts of its Captain, Cassin Young before running aground. Knoop provides details about the initial confusion of the attack, the loss of men on his ship and witnessing Arizona crewmen shortly before the ship blew up.
Pearl Harbor survivors are a rapidly dwindling group. Fortunately, we have these two accounts of one of the pivotal days of American history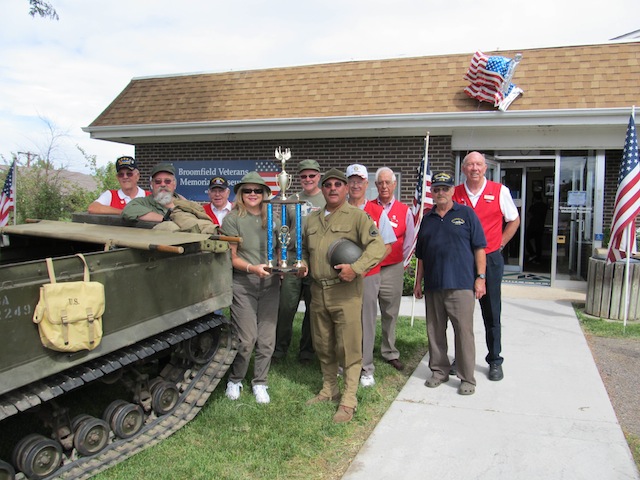 Broomfield Days Parade Award
Museum board members holding the Sweepstakes Trophy won during the 2011 Broomfield Days Parade. To see more pictures of the historic military vehicles on display during Broomfield Days, view the slideshow.
Left to right: Jim Sparks, Karl Bogle, Marv Eakes, Kate Bogle, Mark Nyhuis, Ray Fernandez, Bob Sauer, Bob Davis, Richard Northrop, Larry Hasty

New, Old Videos
August 4, 2011
Lately, it's been time to catch up on some work that's gone neglected for too long. The project to record interviews with veterans actually began back in November, 2000 when Omni Media Services began interviewing veterans in Broomfield, Colorado with the support of the Broomfield Rotary Club. At first, the project was limited to Broomfield and this website wasn't even conceived of yet, but we've expanded greatly since then talking to veterans from all over the country.
For years, many of these edited interviews recorded in 2000-2002 existed only on VHS tape. Recently, we've been trying to catch up on remastering them from the original master tapes to DVD and digital formats for archiving at the Broomfield Veterans Memorial Museum. We're about halfway through the project which will continue for months to come, but excerpts from these older interviews have just been posted to the video page. Look for clips of Bill Greenewald, Bob Seeber, Dick Hazen, Jack Tanner, Jim Van Buskirk, John Atkinson, Louis Goos, Sophie Bellino, Stan Kerkhoff, Joe Lemmo, Phil Bissell, Grant Oasheim, Hubert Peters, John Brown and Ron Fenolia. Other clips from these early sessions have been on the site for awhile already, including those of Tom Sander, Julius Jordahl, Vern Bingham, Paul Murphy, Bill Reynolds, Dick Newell, Clarence Edmonds, Pauline Edmonds, Louise Lyon and Jim Tracy.
What's particularly relevent about this is that many these veterans are no longer with us. If we hadn't conducted interviews when we did, these stories would not have been preserved for the future. In many cases, the families of these veterans didn't even know them until the tapes were made for them. It's a reminder of just how important it is to get this information preserved whenever we can.
D-Day - 67 Years Later
June 6, 2011
For more accounts of D-Day, see clips from Dewey Augenstein, Jesse Black, Bill Kenyon and Tom Sander. Also check out Phil Antonelli's Return To Normandy picture gallery and video clip.
An Era Passes
March 21, 2011
With the death of Frank W. Buckles, America's last surviving veteran of World War I, one is forced to think about how once an era ends, valuable opportunities to understand history from a firsthand perspective disappear.
The World War I generation isnow gone. We can no longer ask the questions we have about that momentus event from those who were there. Certainly, multitudes of books, journals, diaries and some audio and video recollections of these veterans continue to exist, and their value is now greater than ever, but it is a draft of history that is now finished. The history will not necessarily be less accurate, but much of the color and context is now lost. All that is remains is now subject to editing, interpretation and occasional errors of omission or faulty recollection from secondhand sources.
Over the next 15 years, the World War II generation willl decrease steadily and eventually reach the numbers that the "doughboys" did over the last 20 years. Fortunately, there has been more awareness of their stories, and a greater effort to document them. Modern technology has made audio and video recording more readily available. Computers have made writing and publishing memoirs easier and photos easier to share and preserve. Most importantly, there has been a growing realization on behalf of the veterans themselves to have their stories recorded, if not for historical research, then at least for their own family.
The World War II generation gets the most attention, but we must remember that Korean War veterans are not much younger and many Vietnam Veterans are already in their 60s and 70s. It is necessary to put a priority of recording veterans of those wars, which often don't get the attention they deserve due to public indifference or divisions over those conflicts. The veterans who participated in these wars need to be the ones who go on record so their side of the story is told the way they want it told.
At some point we will hear of the loss of the last World War II veteran, Korean Veteran and so on. Fortunately, we can preserve the voices of these important men and women before we reach that point and make them accessible to those who will never know them personally. Of all the ways to honor veterans, perhaps the best is to let them tell their own story.
The Blog Debuts
March 21, 2011
As part of the ongoing effort to revamp this site, we've decided at add a blog to occasionally provide some commentary on subjects that arise relating to our mission of preserving the firsthand experiences of war veterans.
Over the years of conducting interviews with veterans, we've come up with a number of insights that go beyond the technical skills necessary to acquire these interviews. This blog will allow us to elaborate on these and provide some more guidance for others who start the preservation process, whether on their own, for their family, or as part of a formal oral history archiving project.
While it would be ideal to be able to set and follow a regular blogging schedule, at first, our updates will be occasional and hopefully grow in frequency over time. Stay tuned, as this project evolves and progresses, this blog is where our current observations can help contribute to your understanding of the history we are so fascinated by.